To CEOs demanding highly accurate and defensible business valuations in technical, fast-evolving fields, Suralik, LLC, provides clear, comprehensive, current and court-proven financial analysis based upon tried and tested principles.
Suralik, LLC, is the consulting firm of Margaret F. Suralik, CPA/ABV. Margaret Suralik provides business valuation, forensic accounting and financial consulting to clients across the nation. She has over 30 years experience serving businesses in a wide variety of industries. Margaret gives her clients close, personal attention from a professional with impeccable credentials, solid experience and excellent technical and communication skills. She has created this website in order to share her knowledge.
Suralik, LLC, has served law firms, accounting firms, private and public operating companies, financial institutions, asset holding companies, high-net worth individuals, and private equity firms. Purposes for which services have been provided by Margaret Suralik include the following: mergers and acquisitions, buy/sell agreements, estate planning and gifting, estate administration, tax compliance, ESOP compliance, GAAP and IFRS compliance, SBA loan compliance, corporate planning, commercial loan support, marital dissolution, shareholder dispute resolution, spin-offs and recapitalizations, shareholder redemptions, insurance settlements, and civil and criminal litigation support.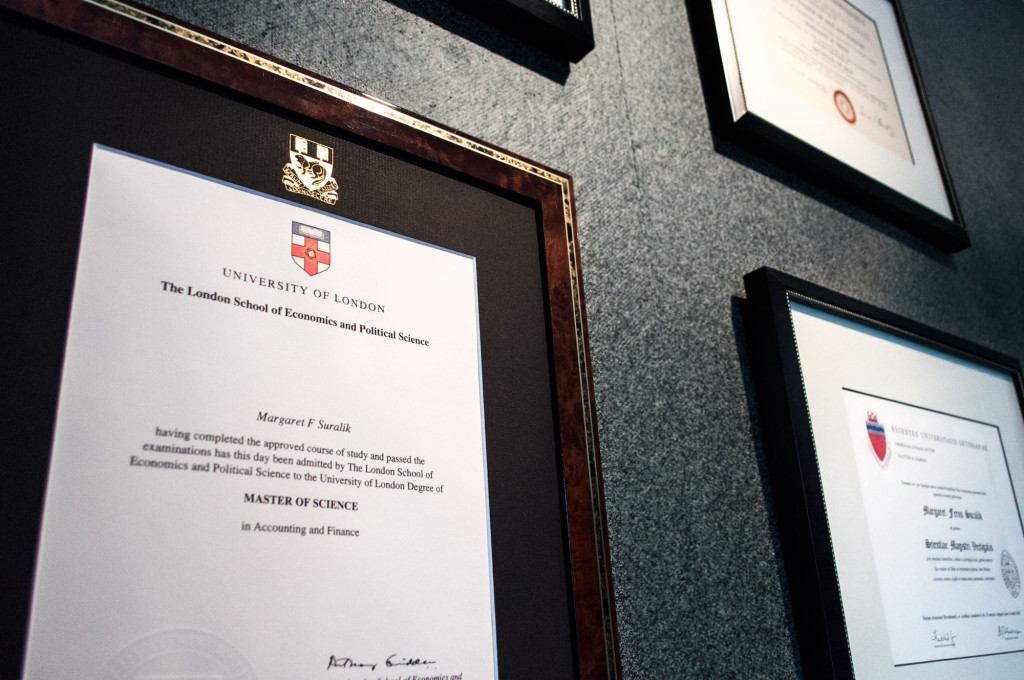 Reports issued by Suralik, LLC, are prepared in accordance with applicable professional standards, including Business Valuation Standards of the American Society of Appraisers; Uniform Standards of Professional Appraisal Practice (USPAP); and Statements of Standards for Valuation Services as issued by the American Institute of Certified Public Accountants.
Margaret has served as an officer and president of the Wisconsin Chapter of the American Society of Appraisers and has taught Finance, Accounting, and International Accounting at the London School of Economics and Marquette University.
Margaret Suralik has experience with the following types of business interests and industries:
Types of Interests Valued

Common Stock
Preferred Stock
Partnership Interests
LLC Interests
Sole Proprietorships
C Corporations
S Corporations
Warrants/Options
Voting & Nonvoting Stock
Minority Interests
50% Ownership Interests
Controlling Interests
Intangible Assets
Industry Experience

Advertising
Agriculture
Auto Sales & Service
Business Services
Chemicals
Construction
Energy
Financial Services
Food Service
Health Care
Insurance
Investment Holding
Leisure & Entertainment
Manufacturing
Mining
Professional Services
Real Estate
Retail & Restaurants
Software Development
System Architecture
Telecommunications
Transport & Trucking
Waste Management